10 Ways to Cook and Eat Purple Cauliflower (Recipes & Ideas)
Whether raw or cooked, purple cauliflower is adaptable to a range of uses in the kitchen. If you have some extra purple cauliflower lingering in your fridge and you don't know what to do with it, read on to get some inspiration, ideas and recipes.
1. Eat Raw Purple Cauliflower Florets as a Healthy Snack
Like white cauliflower, purple cauliflower can also be eaten raw. For a healthy, low-calorie snack, cut some purple cauliflower into bite-sized pieces, wash the pieces under cold running water, drain, and eat immediately with your favorite healthy dip. Or, pack them in a lunch box for a healthy midday or afternoon snack.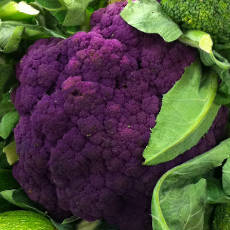 2. Make Cauliflower "Steaks" on the Grill
Grilling is one of the most flavorful ways to cook steaks — including vegan cauliflower "steaks"! To make purple cauliflower steaks, start by cutting a purple cauliflower head crosswise to make two 1-inch thick planks (save the trimmings for another use). To turn the planks into mouthwatering cauliflower steaks, follow these simple steps:
Prepare a gas or charcoal grill for medium heat.
In a small bowl, mix ⅓ cup of olive oil, 1 teaspoon of ground cumin seeds and 2 minced garlic cloves.
Brush both sides of each raw cauliflower steak with the olive oil mixture, and sprinkle on a little salt and pepper.
Grill the cauliflower steaks for about 4-5 minutes per side, or until done to your liking (test for doneness with a fork). Serve warm.
3. Use It as an Ingredient in Homemade Vegetable and Fruit Juices
As it has a relatively mild flavor compared to other Brassica vegetables such as broccoli or cabbage, purple cauliflower makes a nice addition to fruit juices if you are looking to add some vegetable goodness to your homemade juices. In juices, it works particularly well in combination with purple carrots and apples.
4. Incorporate Purple Cauliflower into Smoothies
Using purple cauliflower in a smoothie may seem like an odd thing to do, but adding a little bit of raw or cooked purple cauliflower to a smoothie is a great way to add creamy texture and antioxidants to your drink. And, as long as you don't go overboard, you will hardly notice its flavor. Here's a simle recipe for a tasty and healthy purple cauliflower smoothie:
Put 1 ⅔ cups of water in a large-capacity blender.
Add 1 small peeled banana, a handful of steamed and chilled cauliflower florets, ⅔ cup of fresh pomegranate arils, and ⅔ cup of rinsed frozen blueberries.
Process until smooth and creamy, adding more water as needed to achieve the desired consistency.
Pour into glasses and enjoy immediately. This recipe yields 2 servings.
5. Make a Side Dish by Mashing Cooked Purple Cauliflower and Purple Potatoes
Mashed purple vegetables make a fun and healthy side dish, and making this funky-looking alternative to mashed white potatoes is a great way to use up a large amount of purple cauliflower. And, the best thing is, you don't need a recipe to make this dish; just puree some steamed purple cauliflower, along with a few steamed purple potatoes, and season with salt. It's that easy!
6. Make Purple Cauliflower "Rice"
Using cauliflower rice, which is essentially just chopped-up cauliflower florets, as a substitute for real rice in recipes for risotto, pilaf and stir-fries has gained traction with low-carb dieters and Paleo folks. But why not use purple cauliflower to make this rice substitute? After all, there is also black rice which has a purplish color when cooked! The best way to make cauliflower rice, whether you are using white or purple cauliflower, is to grate fresh cauliflower florets just like you would grate cheese, or process the florets into cauliflower rice in a food processor. And, while you are at it, why not make some extra purple cauliflower rice for the freezer? To freeze cauliflower rice, all you have to do is put the chopped-up cauliflower in freezer-safe bags, squeezing out as much air as possible, and then pop the bags in the freezer.
7. Use Purple Cauliflower Rice to Make Grain-Free Pizza
Another cauliflower recipe that is popular with low-carb dieters and Paleo people is the cauliflower pizza crust which uses roasted cauliflower rice instead of flour. Here's an easy recipe for cauliflower pizza crust that works both with purple cauliflower and white cauliflower:
Preheat the oven to 400°F. Spread 3 cups of cauliflower rice in a single layer on a rimmed baking sheet lined with parchment paper or an oven-safe baking mat.
Put the baking sheet in the oven and roast the cauliflower rice, tossing occasionally, until it is tender, about 20 to 25 minutes.
Remove from the oven and let cool. Once the roasted cauliflower has cooled, transfer it into a clean cheesecloth or dish towel, and squeeze out as much moisture as you can. You want the cauliflower rice to be as dry as possible.
Next, put the rice in a bowl, along with 1 egg, 2 tablespoons of almond meal, ¼ teaspoon of garlic powder, 1 teaspoon of dried oregano, ¼ teaspoon of salt and 1 tablespoon of olive oil. Mix until fully combined.
Transfer the dough to a parchment-lined baking sheet, and spread it out until it resembles a pizza round.
Bake for 25 minutes, or until the crust is firm and golden brown.
Remove the crust from the oven, and load it up with your favorite toppings. Bake for 6 to 8 more minutes.
8. Use it to Make Savory Veggie Burgers
Nutritious and satisfying, veggie burgers are always a hit. And the great thing about veggie burger recipes is that you can usually tweak them to accommodate whatever vegetables you have on hand. So, if you have a lot of purple cauliflower and don't know what to do with it, why not use it to replace some of the other vegetables in your favorite veggie burger recipe? Just keep in mind that if you use it as a substitute for vegetables with a very different moisture content, you may need to adjust the amount of liquid in the original recipe.
9. Use it as a Substitute for White Cauliflower
If you have a recipe that calls for white cauliflower, you can always use purple cauliflower as a substitute because there is no big difference in flavor between purple and white cauliflower. Just keep in mind that purple cauliflower may change the color of the dish, which may or may not be desired, depending on what you are making (for example, if you are making a pureed vegetable soup, it may be a good idea to stick to white cauliflower).
10. Freeze Purple Cauliflower for Later Use
If you have a lot of purple cauliflower on hand and not enough recipes to use it all up, consider freezing it for later use. You can freeze purple cauliflower the same way you freeze white cauliflower:
Blanch the purple cauliflower florets by cooking them in boiling water for 3 minutes, or by steaming them for 4½ minutes.
Drain, and toss into a large bowl filled with cold water and ice cubes — this will stop the cooking process and prevent over-blanching.
Let the cauliflower pieces chill in the ice-water bath for the same amount of time they were boiled or steamed, then drain thoroughly.
Spread the florets in a single layer on a flat tray and place in the freezer. Once hard, transfer to freezer-safe bags or containers and pop them back into the freezer.
Don't Miss This

BPA-Free Food Steamers Sold in the US, UK and Canada
Looking to buy an electric food steamer that's free of BPA? Then check out these tips.
More to Explore
Book You May Like

Even though the health benefits of Brassica vegetables have been documented in numerous studies, many home cooks still find these green veggies a little intimidating. In
Brassicas: Cooking the World's Healthiest Vegetables
, Laura Russell teaches home cooks how to bring out the wonderful flavors of these super-veggies without burying them under unhealthy ingredients like cheese. Brussels sprouts, for example, develop a wonderful sweet flavor when they are roasted, while watercress comes into its own in salads that can benefit from a little peppery kick. To learn more, or order a copy,
go to Amazon
.